Your home is your castle, and it's one of the biggest investments you'll ever make. Keeping it safe and secure is a top priority of many homeowners.
Thanks to advances in smart home technology and home automation security products, you can now monitor your home's cameras, security solutions and more, no matter where you are in the world.
Alarms, camera, motion sensors and more – the options are endless when it comes to keeping tabs on what's happening in your home. You can now have peace of mind all at the touch of a button. Best part is, you can install most of this automated home security technology yourself, so you don't need to shell out thousands to a security installation company or contractor.
Home security has come a long way over the years, with today's models featuring all the bells and whistles that allow for them to be fully integrated with home networking systems and smart devices. Of course you'll want to ensure that whatever system you purchase is compatible with any mobile device you plan to use it with, but there are a few other things to consider before purchasing a smart home security system, including:
Alert System
Do you want motion-based or sound alerts or alerts for all activities? Email or push-based? They can also be set to provide audible notifications to help ensure you never miss an activity.
Camera Features
If your smart home security system comes with any camera(s) you'll want to consider the features available on them. Our complete Outdoor Security Camera Buying Guide will help you find something that works for your needs.
Sensors
When looking at a smart home security system you'll want to consider the included cameras, sensors, and alarms. Such considerations will depend on the size of your home and how much coverage you desire. There are window sensors, water leak sensors, those that detect smoke and carbon monoxide, and many more. Many systems will even include an audible alarm to deter intruders and alert anyone in the area to a break-in.
Installation
The best part of smart home security systems today is you can install most of the automated technology yourself, so you don't need to shell out thousands to a security installation company or contractor. Consider whether you want a wired or wireless unit and if it requires drilling or an external power source.
50 Best Smart Home Security Products
In no particular order, here are our recommendations for smart home security products.
1. Danalock Bluetooth Z-Wave Smart Lock
You'll never have to worry about forgetting your key again after installing a smart lock. Quickly and easily installs, allowing you to open your door via smartphone and grant others access no matter where you are in the world.
Key features:
Easily installs into current deadbolt hole in just 5-10 minutes
Works with both Android, iOS and other major devices
Sleek design blends with any home décor style
Cost: *Est. $179
2. Samsung SmartThings Home Monitoring Kit
Keep your home and family secure with this complete smart home monitoring kit. Automate your home's electronics, lights and keep track of who's coming and going with setup that takes as little as 15 minutes.
Key features:
Secure your home without the monthly monitoring costs of a traditional home security system
Notifications let you know who's coming and going
Monitors smoke and carbon monoxide levels to help keep your family safe
Use your iOS or Android device to control lights, appliance and electronics while on the go
Cost: *Est $299
3. Mother and 4 Motion Cookies Versatile Sensors
No one knows the importance of staying connected with your family more than moms, and this kit lets you do just that – and more. Keep track of the comings and goings in your home, motivate your family to do healthier activities and any other task you can think of.
Key features:
Sensors can alert you to break-ins, serve as medication or activity reminders, and let you know when the kids come home
Keep track of who's in your home with Cookies
Batteries last up to one year
Compatible with Windows, iOS and Android devices
Cost: *Est. $299
4. Dropcam Pro WiFi Wireless Video Monitoring Camera
Who hasn't wondered what the family pet is up to all day when they're not home? Sneak a peek with this WiFi-enabled device and never wonder again!
Key features:
Complete setup in under a minute
Night vision, zoom and 130 degree diagonal field of view ensure nothing escapes your sight
Secure offsite recording (additional cost) allows you to review and edit footage up to a month old
Cost: *Est. $199
5. Oplink Connected CMPOPG2204OPL01 Alarm Shield
Get peace of mind your home and belongings are secure with this affordable home security system. Get real-time alerts and notifications for multiple locations no matter where life takes you.
Key features:
Includes door and window sensors, motion sensor, remote controls and siren
Arm or disarm the system via your smart phone
Enjoy free self-monitoring or upgrade to premium monitoring (monthly fee)
Cost: *Est. $149.99
6. Belkin NetCam HD Wireless IP Camera
Get peace of mind your home is safe and secure no matter where you are in the world. See and hear what's happening in your home even when you're not around thanks to a live video monitoring feed.
Key features:
HD-quality video and crisp digital audio
Easy setup, connects to your home's WiFi network
Email notifications are sent when movement is detected
Cost: *Est. $87.99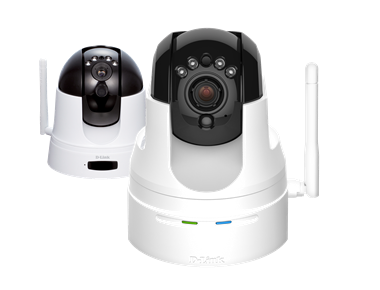 Secure your home or business for a fraction of the cost of a traditional security system with this iOS- and Android-compatible camera.
Key features:
Zoom, tilt, pan and infrared technology lets you see who's there any time of day
Two-way audio
Suitable for outdoor use
Cost: *Est. $217.24
8. D-Link DCS-930L mydlink-Enabled Wireless-N Network Camera
Perfect for your home or business, this wireless surveillance camera is the complete package. Stay up-to-date on what's happening via the Internet or smart phone app.
Key features:
Easy, secure setup in minutes
Fits almost anywhere thanks to its compact design
Compatible with iOS and Android devices
Cost: *Est. $32.49
9. D-Link Wireless Day/Night HD Outdoor Network Surveillance Camera
This outdoor-ready security camera is designed to handle all types of weather. From dust and rain to wind and snow, you can trust your home surveillance needs will be met. View your feed from anywhere thanks to the free app.
Key features:
Wireless or wired setup
Sensitive enough to see in utter darkness
Wide angle lens allows you to keep an eye on your home
Cost: *Est. $179.99
10. Chamberlain MyQ Garage Door Controller
You'll never have to worry about whether or not you closed the garage door again thanks to this device. Simply connect to your home's wireless network to receive alerts when you forget to close the garage door and open and close it right from the mobile app.
Key features:
Installs in minutes and works with most door openers installed after 1993
Compatible with Android and iOS devices
Alerts sent automatically let you know when door is opened
Cost: *Est. $129
11. D-Link WiFi Day/Night HD Baby Camera
Making sure your little ones are safe is top of mind for parents, and this baby camera lets you check in on your wee one whether you're in the next room or on the other side of the globe. Interchangeable pink and blue accent rings allow you to customize for your child.
Key features:
Compatible with Android and iOS devices
Motion and sound alerts let you keep track of your most precious family member
Remote lullabies and two-way communication let you comfort your baby anywhere you are
Cost: *Est. $179.99
12. Mr Beams MB360 Wireless LED Spotlight
No intruder will escape your watch in the beam of this wireless LED spotlight. Bright, powerful motion-activated LED turns on and off automatically – helping you secure your home without using a lot of energy.
Key features:
Durable weatherproof design
Coverage of up to 350 square feet
Easy to install, battery operated
Cost: *Est. $16.66
13. WallyHome Water Leak Detection System
Prevent small water leaks from becoming a big, expensive problem by getting alerts to problems as soon as they begin. Help protect your family's health by preventing the growth of mould by monitoring humidity and temperature levels.
Key features:
Sensor battery can last 10 years or longer
Easily installs in less than an hour
No-cost monitoring alerts through push notifications email, and text message
Cost: *Est. $299
14. Schlage Home Door and Window Sensor
Secure and monitor your home remotely with this door and window sensor. Easily add additional sensors for peace of mind around your whole home. Check your home's status online or through your mobile device.
Key features:
Notifications let you know when your home's entryways have been opened
Up to 3 years of battery life
Quick and easy installation
Cost: *Est. $38.54
15. Schlage Camelot Touchscreen Deadbolt with Z-Wave Technology and Built-In Alarm
Having a high quality lock can help give you peace of mind when it comes to securing your home. Schlage products are known for the quality and dependability, and this deadbolt is no exception.
Key features:
Fingerprint-resistant touch screen allows for keyless locking and unlocking
Includes a back-up key in case of power failure to the device
Z-Wave wireless technology allows homeowners to control access from online or via their smart phone
Cost: *Est. $178.85
16. OKIDOKEYS Classic ACCESS-PACK Bluetooth 4.0 Smart-Lock System
Lock and unlock your door with ease via a mobile phone or one of the included smart tags. You can even manage multiple properties at a time, controlling who has access to the keys from wherever you are in the world. Unlike many smart door locks, this one doesn't need WiFi to operate.
Key features:
Compatible with ANSI Grade 1 or Grade 2 deadbolts
Create up to 6 custom rules for opening your lock
Easy installation requires no drilling or wiring
Includes a wireless doorbell and built-in alarm feature
Cost: *Est. $259
17. Kwikset 925 Kevo Single Cylinder Bluetooth Enabled Deadbolt
This smart lock turns your iPhone into your key, and is also compatible with the range of Weiser SmartKey locks and keys, so you can easily integrate it into your home's current lock system. The mobile app lets you manage your keys and lock from almost anywhere.
Key features:
Unlimited guest keys at no extra cost
Compatible with iPhone 4S, 5, 5C and 5S
Fits most standard doors with no addition holes required
Does not need power or Internet connection
Cost: *Est. $216.49
18. Ecolink Z-Wave Door/Window Sensor
This sensor will let you remotely monitor anything you want that opens and closes, and, thanks to Z-wave technology, is compatible with a host of smart home networking hubs.
Key features:
Installs quickly and easily with mounting hardware (included) or double-sided tape
Interchangeable brown or white casing to match your home's décor
Range of up to 100 feet can detect openings up to 5/8-inch
Cost: *Est. $33.99
19. iSmartAlarm iSA3 Preferred Package Home Security System
These wireless sensors make for a convenient, real-time monitoring system. With nearly unlimited expandability, you'll never have to worry about being able to monitor your whole home, no matter what size it is.
Key features:
Compatible with iOS devices
No monthly monitoring costs to worry about
Free alerts via text, email and on your phone
Cost: *Est. $194.49
20. Everspring Z-Wave Door/Window Sensor
Get peace of mind by knowing who's coming and going from your home with sensors on your home's doors and windows. This Z-wave powered unit will send you an alert to let you know when the sensor has been broken.
Key features:
Get alerts on up to 4 devices
Battery powered
Compatible with any contact switch device
Cost: *Est. $29.95
21. Touchless BM003R Bio-Matic Fingerprint Door Lock
Add up to 150 trusted fingerprint users and up to 78 trusted pass code users for this smart home lock. And if the battery dies (up to 15,000 uses), it even comes with 2 backup keys so you can still get in.
Key features:
Low battery alert
Water resistant
Fits in any standard door lock
Cost: *Est. $269.90
22. Samsung Digital Door Lock SHS-P718 Fingerprint Push Pull Two Way Latch Mortise
This is the world's first biometric push-pull lock. Open and close with a scan of your fingerprint or by entering the 4-12 digit entry combination.
Key features:
Digital keypad
Motion detector sensor welcome feature
Alert system lets you know of potential intruders
Cost: *Est. $499.99
23. Simplisafe2 Wireless Home Security System 8-piece Plus Package
With advances in technology, now you can install your very own home monitoring system for much less than the price of traditional security systems. This model has everything you need to get up and running quickly.
Key features:
Sensors come pre-programmed
Independent cellular connection can't be cut by intruders
Mobile monitoring compatible with iOS and Android devices
Cost: *Est. $249
24. GE Personal Security Alarm Kit
This home monitoring system is a truly economical solution for basic home security. The 120-decibel alarm alerts you to any potential intruders.
Key features:
Includes 3 window alarms and one deluxe door alarm
Battery powered (up to 1 year use)
No wiring necessary
Cost: *Est. $19.97
25. Aeon Labs Aeotec Z-Wave Multi-Sensor
Compatible with several popular home automation systems, this sensor detects motion, temperature, lighting, and humidity in its immediate area.
Key features:
Z-wave technology
Suitable for indoor/outdoor use
Up to 2 years battery life
Cost: *Est. $48.95
26. TENVIS Wireless IP Pan/Tilt/ Night Vision Internet Surveillance Camera Built-in Microphone
Two-way audio and remote monitoring via your smart phone mean nothing will escape your sight. Night vision mode lets you view up to 12 meters away.
Key features:
270-degree vertical tilt
90-degree horizontal tilt
Compatible with iOS and Android devices
Cost: *Est. $45.25
27. Chamberlain Voice-Activated Wireless Portable Intercom
Stay connected up to 1000 feet away with a portable intercom system that lets you connect up to 12 units for whole home coverage.
Key features:
Secured single or multi-channel connection
No wires necessary
Battery powered
Cost: *Est. $93
28. Professional Wireless Home Security Alarm System Kit with Auto Dial
A whole home security monitoring system can help you keep track of who's coming and going, even when you aren't nearby. Supports landline or VoIP connections and has a landline cut alert feature.
Key features:
No monthly monitoring fee
Silent alarm mode
Scheduling lets you set auto-arm and auto-disarm times
Cost: *Est. $199
29. Wireless iCamera 1000 Outdoor/indoor Night Vision
Compatible with the ADT Pulse system, this camera provides a clear picture of the goings-on around your home. Night vision and motion tracking features give you peace of mind no matter what time of day.
Key features:
Water and dust resistant
Hard wire or use wirelessly
60-degree diagonal view angle
Cost: *Est. $50
30. SmartThings Smart Home Starter Kit
This smart home security system is a box has everything you need to quickly and affordably protect your home. The mobile app is intuitive to use and lets you setup notifications that alert you to the events that matter most to you.
Key features:
No monthly fees
No wiring necessary
Compatible with iOS and Android devices
Cost: *Est: $199
31. NETGEAR VueZone Wire-free Video Monitoring System
Your time is valuable, so get your home's video monitoring up and running in minutes. Easily change the camera's location thanks to peel and stick magnetic mounting.
Key features:
Wire-free installation
Motion-driven alerts sent to your smart phone
Nominal monthly monitoring fee
Cost: *Est. $99
32. SAMSUNG SHS-H705 Fingerprint Digital Door Lock
Forget about carrying your keychain – your fingerprint is now your key. You can also program a PIN entry, or even dual verification to up your home's security ante.
Key features:
Digital touch keypad
Anti-picking technology
Stores up to 100 fingerprints
Cost: *Est. $399
33. Lorex LW2732 Live LCD SD Recording Monitor with Two Wireless Cameras
This kit offers a plug-and-play home monitoring solution that's ideal for commercial and residential uses and can be viewed directly on the included tablet or remotely via your smart phone or computer.
Key features:
Two-way audio functionality
Picture-in-picture
Heat and motion sensor-activated
Cost: *Est. $279
34. Fortrezz Siren Strobe Alarm Wireless Z-wave Red Lense
Get a visual and audio alert to a potential home intrusion with this alarm featuring > 110dB@1m alert sound.
Key features:
Z-wave technology
Compatible with several home security systems
Helps extend range of other Z-wave connected devices in your network
Cost: *Est. $43.75
35. ELEC New 8 Ch Channel HDMI DVR Security System CCTV H.264 Internet and 3g Phone Accessible with 4 Dome 4 Bullet Night Vision Cameras
This is one serious system for homeowners looking to protect their property. Multiple cameras mean you have multiple views to keep your home safe and secure. Two-step setup and instant alerts keep you up to date no matter where you are.
Key features:
Free e-cloud surveillance for life
Recording mode
Remote viewing on your smart phone
Cost: *Est. $139
36. Honeywell 5853 Wireless Glass Break Detector
Be alerted to a potential break-in through your windows with a sensor that can tell if your tampered, wired, laminate, or ordinary plate glass has been broken.
Key features:
Range of up to 25 feet
Battery lasts up to 10 years
Minimal false alarms
Cost: *Est. $59.99
37. SmartSense Presence Sensor
Get alerted when someone approaches or leaves a specific area via text message or push notification. You won't have to ask the kids to call when they get home, you'll already know.
Key features:
Range of up to 50 feet
Compatible with SmartThings hub
Use as a key finder
Cost: *Est. $31
38. Foscam Wireless/Wired Pan And Tilt IP Camera 2 Pack
This camera set is easy to install and can be installed hard wired or wirelessly. Night vision mode and high-quality images let you see who's coming and going no matter what time of day.
Key features:
300 degree pan, 200 degree tilt
Two-way audio enabled
Clear image up to 8 meters away in complete darkness
Cost: *Est. $128.98
39. Piper HD Security Camera, Video Monitoring Wireless Surveillance System and Home Automation Hub

This unit offers the features of multiple products in one – it's a home automation hub, HD security camera and WiFi alarm system all in one.
Key features:
No monthly monitoring costs
Can sync multiple units for complete home monitoring
Real time alerts to your mobile device let you know what's going on
Cost: *Est. $199
40. SAMSUNG digital door lock keyless touchpad security
This lock features a double locking function and mischief-prevention technology to keep intruders out. Fire alarm and emergency door unlock features mean you can escape in case of emergency.
Key features:
Up to 10 months battery life
Combination entry of 4-12 digits
Automatically locks out
Cost: *Est. $184.99
41. Everspring Z-Wave Indoor Siren
This siren alerts you to a number of different sensors, including humidity, motion and temperature, depending on your setup. Z-wave technology means this unit can easily integrate to a number of home hub systems.
Key features:
Up to 100 foot range
Adjustable alarm volume
Battery operated
Cost: *Est. $39.95
42. Zmodo KDB8-CARZBZ4N 8CH Home Video Security System
This advanced home security system comes complete with 4 hi-resolution cameras that can mount almost anywhere and can be controlled via your PC, tablet or smart phone.
Key features:
Night vision cameras
Motion-activated notifications sent right to your phone
Single power supply
Cost: *Est. $151.61
43. Honeywell Intellisense Dual-Tec Motion Sensor
This motion sensor won't be fooled by the family pet, but provides reliable motion monitoring. Microwave-based technology provides superior monitoring with minimal false alarms.
Key features:
Easily integrates into many home monitoring systems
Easily adjustable range
Detects minor variances in temperatures
Cost: *Est. $16.99
44. Wolf-Guard Wireless Autodial Smart Home House Security Burglar Alarm System
This complete tamper-proof home security system lets you set up to 99 wireless monitoring zones so you know what's going on anywhere in your home.
Key features:
No phone line necessary
Arm remotely via SMS or phone
Easily add more accessories
Cost: *Est. $199.99
45. Docooler 7in. Video Door Phone Intercom Kit
See and speak with guests at your door on this 7" color, hi-definition video intercom kit. Infrared technology and night vision mean you'll always know who's at the door.
Key features:
16 door chimes
Adjustable volume, brightness and contrast
Hands-free intercom system with mute functionality
Cost: *Est. $177.23
46. Mustcam 720P HD Indoor WiFi IP Camera
This wireless IP camera features infrared technology so you can keep tabs on what's happening at home any time of day, no matter where you are in the world. Features a Micro-SD slot, pan and tilt functionality and two-way audio.
Key features:
Compatible with iOS and Android devices
Can be used as a baby monitor
Quick and easy plug-and-play setup
Cost: *Est. $65.50
47. Brinno PHV132512 Digital PeepHole Viewer
See who's at the door on the 3.5" or 5" LCD panel without letting people know you're home. Installs quickly and easily and operates at the push of a button.
Key features:
Regular view or zoom
Works in low light conditions
Low battery indicator light
Cost: *Est. $93.38
48. Samsung SmartCam HD Pro 1080p Full-HD WiFi Camera
This camera offers easy plug-and-play installation and seamlessly connects into your home network so you can sneak a peek at what's happening from wherever you are.
Key features:
Stream up to 10 cameras at once
1080p full HD video quality
Compatible with iOS and Android devices
Cost: *Est. $189
49. OKIDOKEYS Trend SMART-LOCK Bluetooth 4.0 Enabled Smart Lock
Quickly and easily install this Bluetooth-enabled smart lock, with no wiring or drilling necessary. You can then use your smart phone to open and close your door, and give e-keys at the touch of a button.
Key features:
Built-in alarm alerts you to potential intruders
Battery operated, no WiFi necessary
Compatible with iOS and Android devices
Cost: *Est. $189
50. Andoer DIY Full Complete RFID Door Access Control Kit Set for Single Door
Control your home's door entry with this set. It comes with multiple access fobs and cards so every member of your family has easy access. Ideal for those renting out part of their home as well.
Key features:
RFID technology
Comes with all mounting accessories
PIN entry compatible
Cost: *Est. $69.49
More Safety Solutions for Kids and Families: